My Edwardian Townhouse Front Garden
Hedge | Hedge Combination Plants

Fragrant Flowers | Roses | Geraniums


Overall Design
The front south facing garden is about (18' x 20') with a straight path from gate to front door on the western side. This traditional and semi formal front garden has a golden privet hedge (Ligustrum Ovalifolium Aureum) along the eastern (new section now 12 years old replaced old dying hedge) and southern sides. As the garden has a full sun aspect all year, I have chosen to temper this by selecting blues, pinks and white as the general colour theme and the planting uses many traditional cottage garden perennials.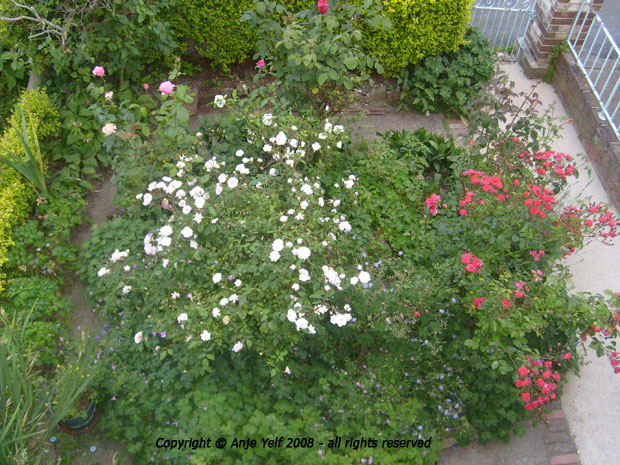 A circular rose and geranium garden forms the main focal point. The circle is further reinforced by a variety of scented red and pink roses with a white iceburg rose in the centre. An Albertine climbing rose arches over the front door; it is known that this rose was fully grown and flowering in 1967, so I'm not sure how old it really is.
The image on the left was taken in June.
The size and aspect of the front garden places constraints on the general size of planting, but I have a theory on how close flowers can be planted. I'm not too keen on weeding, although some is inevitably required, so I am a strong advocate for covering all the available garden so that most weeds just don't get the space. For example, I grow lavender or geraniums under roses. Most of the planting is done directly into the enriched soil, with moveable planters in front of the house windows and another hiding the gas meter.
The Hedge
The traditional English front garden would not be complete without a trimmed hedge. The Golden Privet hedge (Ligustrum Ovalifolium Aureum) has variegated yellow gold and green leaves and in June/July displays clusters of small fragrant white flowers. This particular plant enables gardeners to create a more formal traditional feel to their English front garden. Golden privet tolerates damp or dry conditions, shade or full sun aspect. It is attractive to a variety of insects, butterflies and moths and spiders, but it is harmful to humans if eaten. I trim the hedge twice per year in a simple box shape to keep a neat formal appearance.
Hedge Combination Plants
Two excellant combination plants for the shaded side of the Golden privet hedge are Cyclamen hederifolium (also called ivy-leaved cyclamen) and Helleborus.
The Cyclamen produces wonderful nodding pink flowers on elegant 6 inch stems in Autumn (October) and variegated heart shaped leaves that are as much a delight and excellant ground cover throughtout the winter and spring. However, in 2008 the Cyclamen were flowering from the end of August.
The Helleborus orientalis was planted in the corner bordered on both sides by the Golden Privet and under the Lilac tree, which in winter allows sufficient light to filter through its leafless branches to the plants below. In the background you can see the slender leaves of Snowflake Leucojum, which flowers from December to February on long graceful stems. All parts of this plant are poisonous if eaten.
Along the eastern side (new section of hedge), the conditions change within only a few feet. This area of the garden is much drier and the border rather narrow. Tall, elegant dutch iris grow in the shelter of the hedge. The flowers appear towards the end of April.
In 2008, I planted two varieties of Veronica (Ulster Blue and Red Fox) in the central area with the Iceberg rose. Veronica is a clump forming plant with long flower spikes, which if dead headed will produce spires of flowers throughout the summer. The bees love this plant.
| | | |
| --- | --- | --- |
| Cyclamen | Helleborus Orientalis | Iris Hollandica |
Top of Page
Fragrant Flowers
I enjoy a garden that delights all the senses, so I've included plants that produce a scent. The Lavender occupies a space under a rose by the main path. This combination helps to hide the more unsightly thorny stems and by planting the two together in the same patch of soil, allows me to increase the number of plants in a small area. When designing my planting layout, I made sure the Lavender was planted adjacent to a path. Brushing pass the over-hanging stems fills the air with a delightful aroma.
Plants for a scented garden
Lavender's all year perfume; aromatic leaves; scented purple flowers during summer
In January the sweet violets flower
Muscari - Grape Hyacinth blooms in spring and gives a sweet soft scent
Bluebells in spring produce an aromatic scent
During May and June, Lily of the Valley fills the garden with perfume
In June and July the Golden Privet hedge produces small fragrant white flowers
From May until late autumn; the roses are a delight; each with its own particular scent
Cyclamen hederifolium displays in October, scented flower, but you need to get close
Roses
Maintenance
An English rose garden is low in maintenance. During the flowering season spray fortnightly with a systemic fungicide, for black spot, rust and mildew. Dead head the flowers and cut back to the next bud to encourage a long flowering season. Leave the aphids for the spiders, ladybirds and birds. Snails and slugs will be consumed by hedgehogs and toads, so do not use pellets. In the winter, cut back hard, but above buds. Remove dead, weak and spindly wood and cut back crossing branches that are rubbing. Loosely, fork over a layer of well rotted compost in the early spring as a feed.
Rose Garden Design
The main design theme comprises of nine roses forming a circle around a tenth rose. The eleventh rose is the climber 'Albertine', trained over a metal arch atttached to the wall over the front door. Some of the roses were inherited when we purchased the house, therefore I'm still trying to identify a couple of them.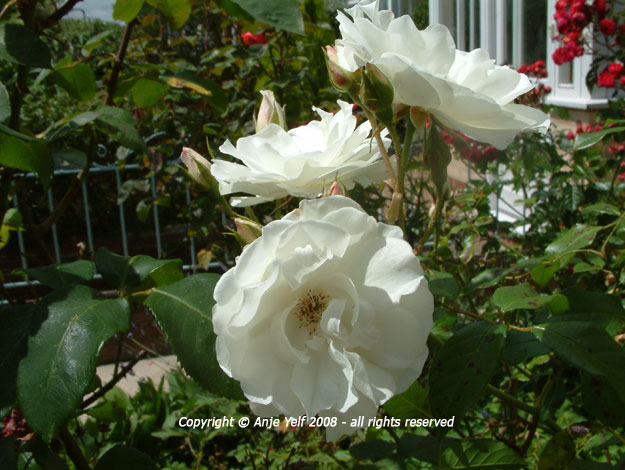 The rose in the center is a floribunda Iceberg. A free flowering shrub that produces sprays of white blooms and lime green foliage on graceful almost thornless stems from early summer until early autumn.
I have found that this rose seems resistant to mildew and rust, but susceptible to black spot. Like all the roses in my garden, I have to spray with a systemic fungicide at two-week intervals to keep the blackspot in check.
Note: I do not spray anything to kill greenfly and other pests as I have found that if you leave well alone, the ladybirds, spiders, birds etc do the job.
Roses in the garden

| | | |
| --- | --- | --- |
| Blessings | Octavia Hill | Queen Elizabeth |
| Yesterday | Unknown Floribunda | Unknown Floribunda |
| Fragrant Cloud | Unknown Tea | Buxom Beauty |
Top of Page
Geraniums
Maintenance
Some geraniums can be prolific and will soon outgrow the designated area. I dig up any extra plants that are surplus to requirements and either offer some to friends; sell at a car boot sale or turn into compost. Dead leaves can be removed in the spring, but otherwise these plants require very little maintenance.
Hardy Geraniums
A fabulous family of plants that survive in my clay soil and provide me with a very long season of colour are the cranesbill hardy geraniums. They attract a wonderful variety of wildlife into the garden, including bees, butterflies and other insects. They also survive well in dry conditions.
Geraniums in the garden

| | | |
| --- | --- | --- |
| Armitagae | Julie Brennan | Phillipe Vapelle |
| Ingwersen | Johnsons Blue | Mrs Kendall Clark |
| Renardii | Pratense Plenum Violaceum | |
Top of Page